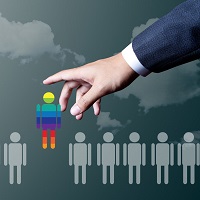 Companies need an efficient procurement process for human resources. The method must be time-efficient and cost-effective. An efficient recruitment process can reduce not only recruitment costs but also the turnover rate.

The recruiting process should lead to the recruitment of employees who match the requisite qualifications and the organization's culture and values. In addition, the process could lead to top performers being recruited.

Top performers were incredibly effective 800 per cent in positions with high complexities, such as IT managers and software developers! This demonstrates the value of an efficient executive search in Pan India to fulfil the demands of the workforce.

● Quickly Fill Vacant Positions: A traditionally prolonged internal executive search process may lead to lower revenues. This is because vacancies impact net productivity negatively. Some managers mistakenly assume that a job is long empty and can save labour costs.

In addition, you should be mindful of the short period that eligible applicants are on the market. You must recruit jobs that need technical skills in particular quickly.

Experienced headhunting companies concentrate with as little time as possible on hiring the best talent. They are familiar with the strategies for quickly finding skilled individuals.

● Hire Qualified Individuals: It is not only time consuming but also expensive to find the best applicants for a job. Employment managers must evaluate work functions, conduct an internal talent assessment and search for a place for the correct candidate. These duties placed an additional burden on the staff.

If novice applicants are engaged for jobs, all the time and resources involved in hiring employees would become wasteful. Because of the extra training needed to perform the roles, the cost of hiring the wrong people is high.

● Passive Candidate Recruitment: The candidates are passive because they already have a high ranking in a renowned organization, they do not actively seek out opportunities. These applicants must be actively pursued by companies, however, time, effort, resources and skills are required. They must spend money to persuade a passive candidate to sail and work for them.

● Fill Roles Which Need Technical Expertise: Companies with technical requirements may have trouble recruiting an applicant who meets all their requirements. In doing so, it would lead to an improved chance of recruiting a suitable applicant in less time, through a management recruitment firm.

● Conduct An Extensive Search: An experienced management recruitment firm will plan the right candidates after a thorough background check for interviews. The headhunting company will check the details in the CV to be precise without inaccuracies.

The recruitment agency shall conduct a background examination to verify the diplomas specified in the curriculum vitae. The organization will also confirm details on the work experience stated in the application.

Final Words
Companies that do not employ an executive search firm face the possibility that either they will extend the recruitment process or hire an incorrect candidate. When businesses recruit a managing recruiting agent, they may profit from the capacity of the employee to carry out effective assignments, jobs, projects and other duties. Briefly, a managing hiring firm will still help businesses make the "right option."

The hunting phase would be saved if an executive recruitment company is hired. The search will take place in absolute discretion and confidence by a specialized firm. The services of the company will ensure swift recruitment of the right applicant.
This entry was posted on April, 24, 2021 at 12 : 26 pm and is filed under Executive Search. You can follow any responses to this entry through the RSS 2.0 feed. You can leave a response from your own site.